* DAYWALKS are held most Sundays of the year, one Wednesday per month and sometimes on Saturdays, with easy to medium walks, generally of a full day's duration. They usually take place within 1½ to 2 hours drive from Melbourne. Daywalks are the perfect introduction for those who are new to bushwalking.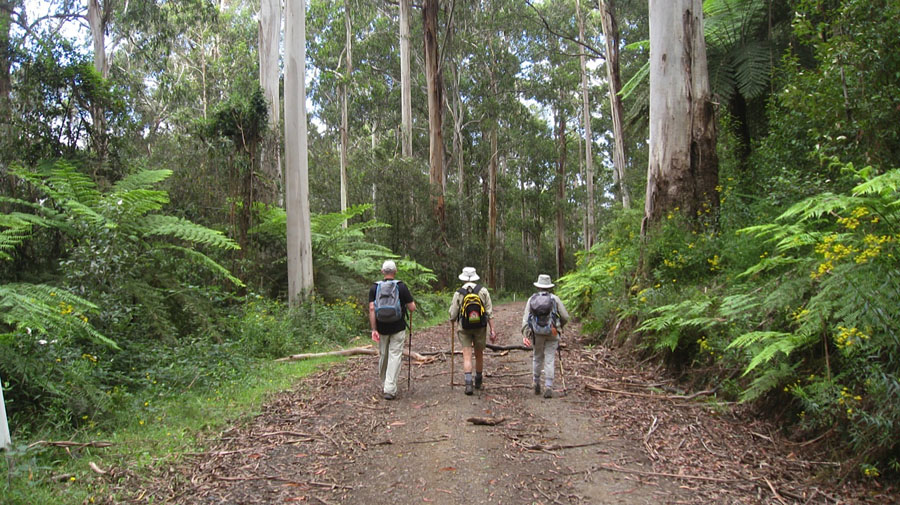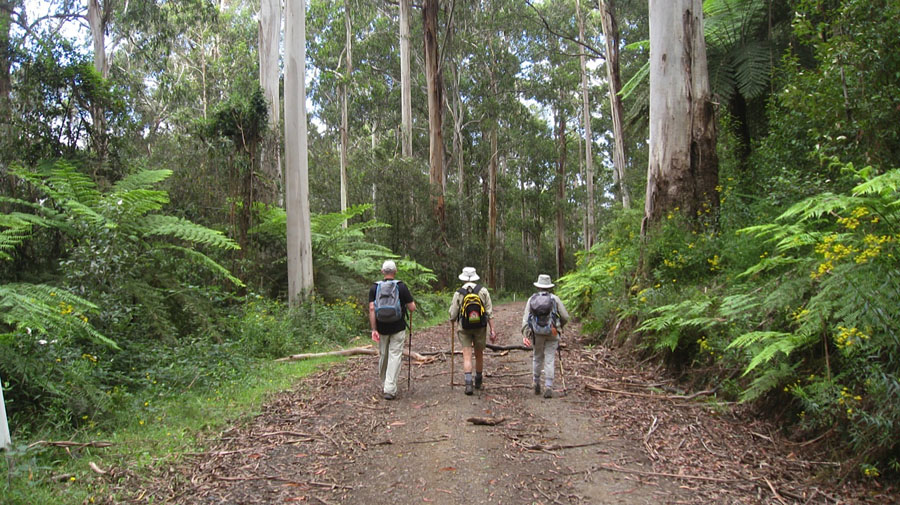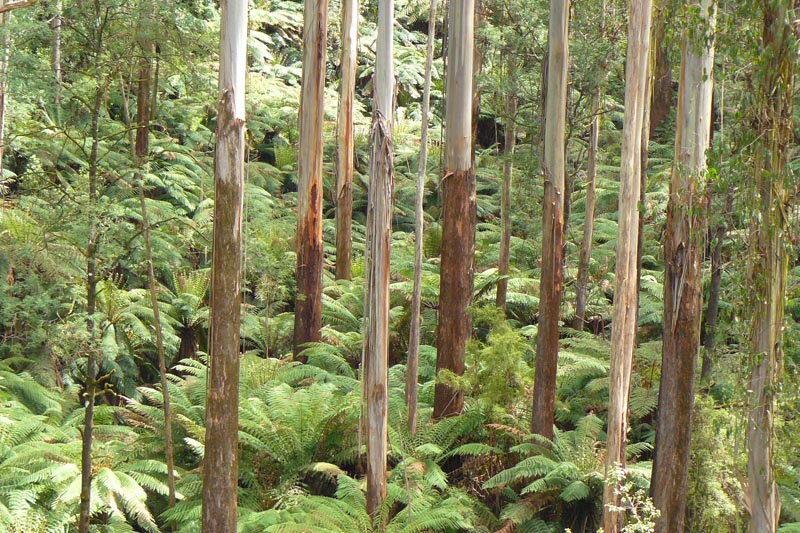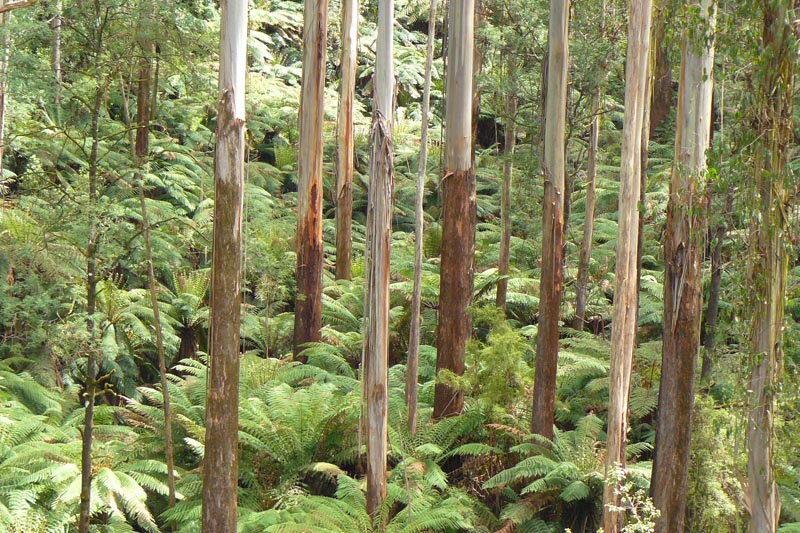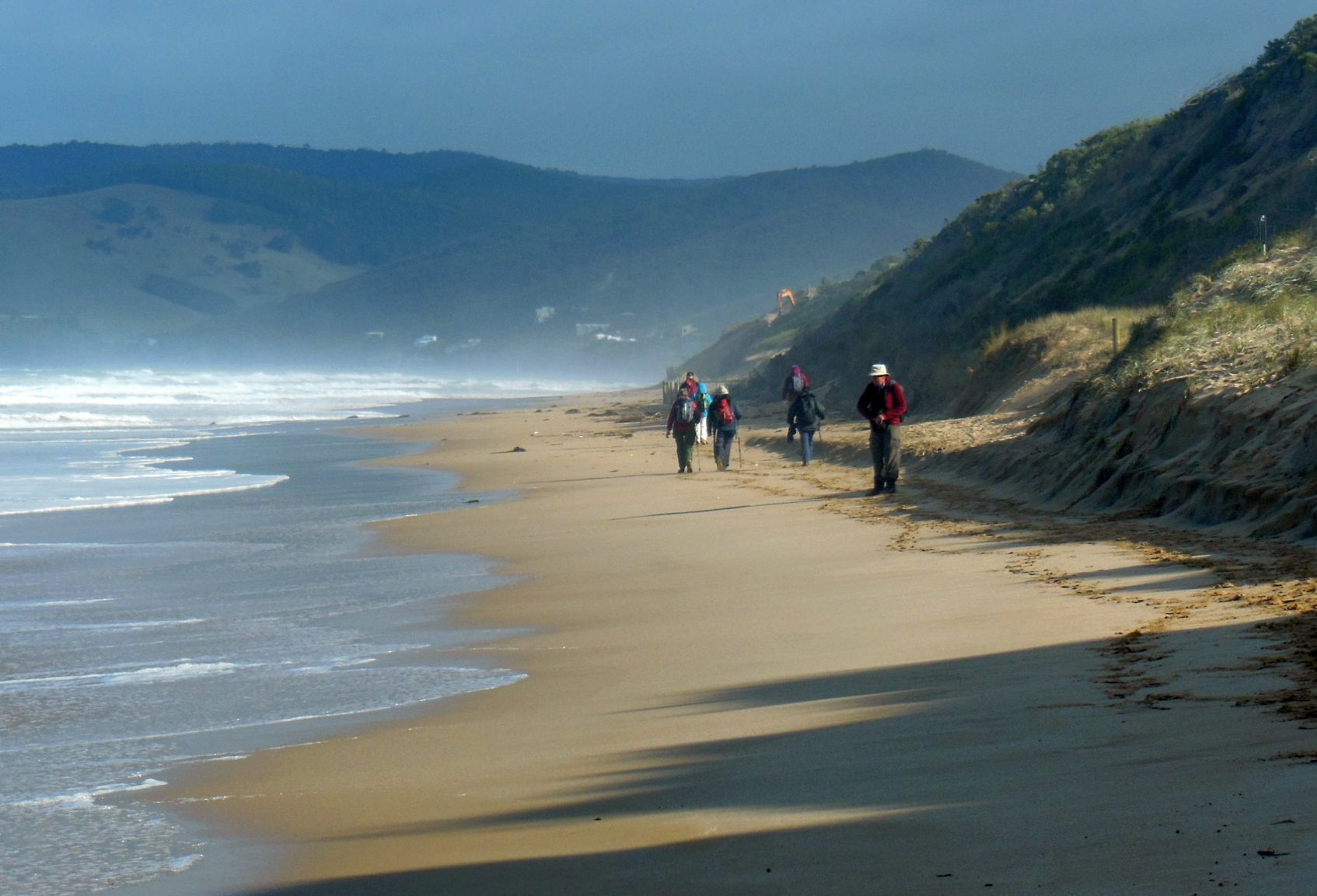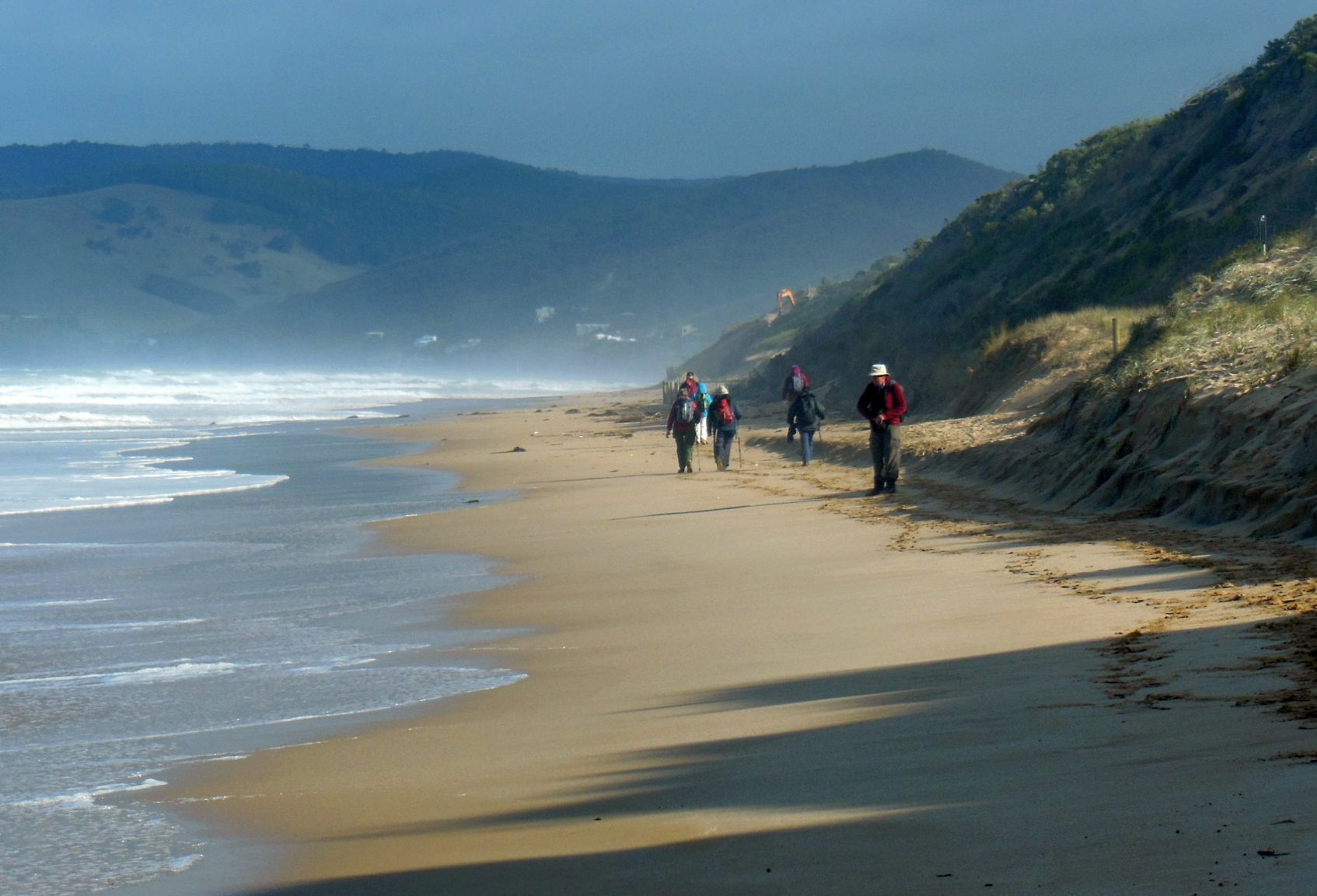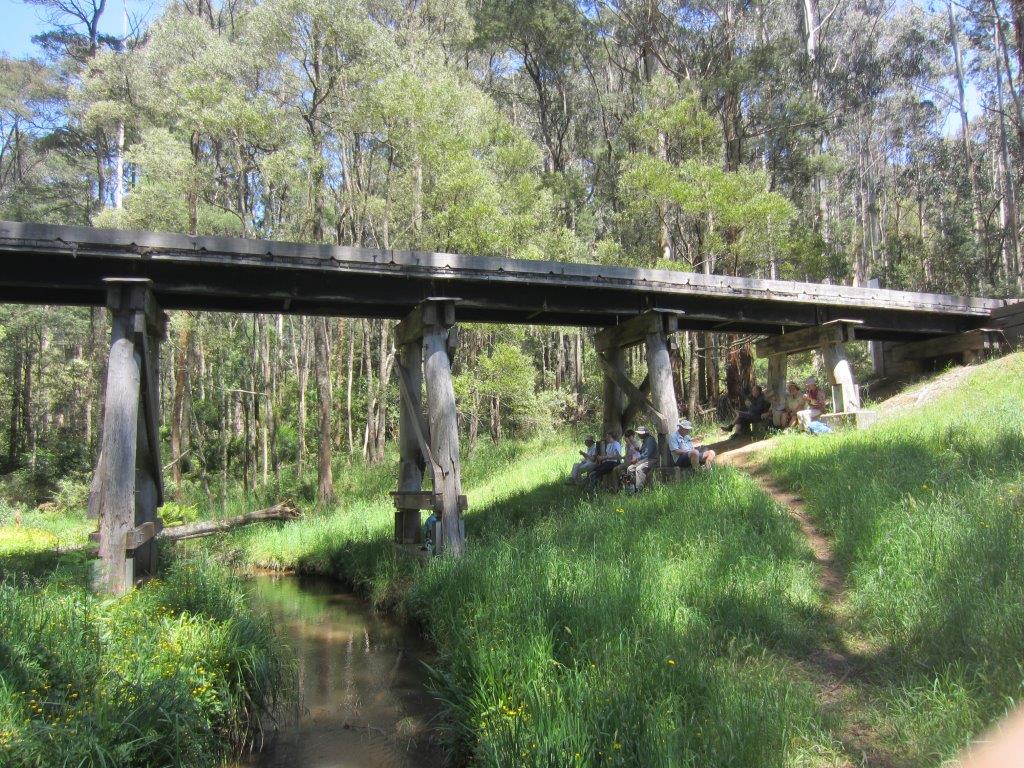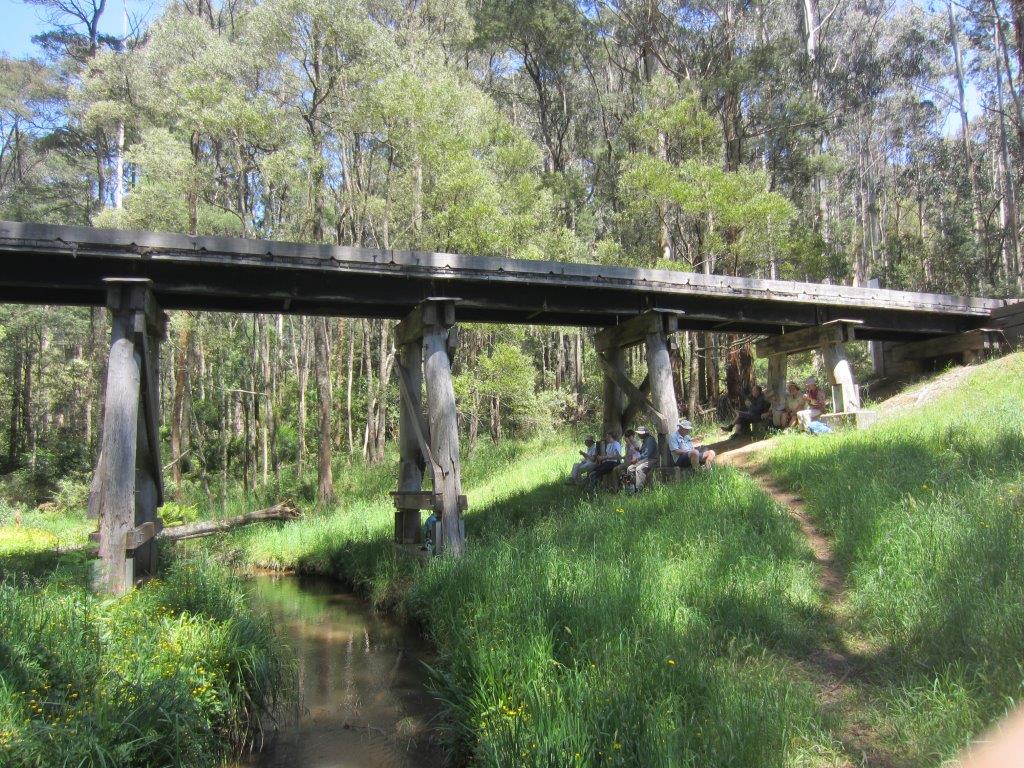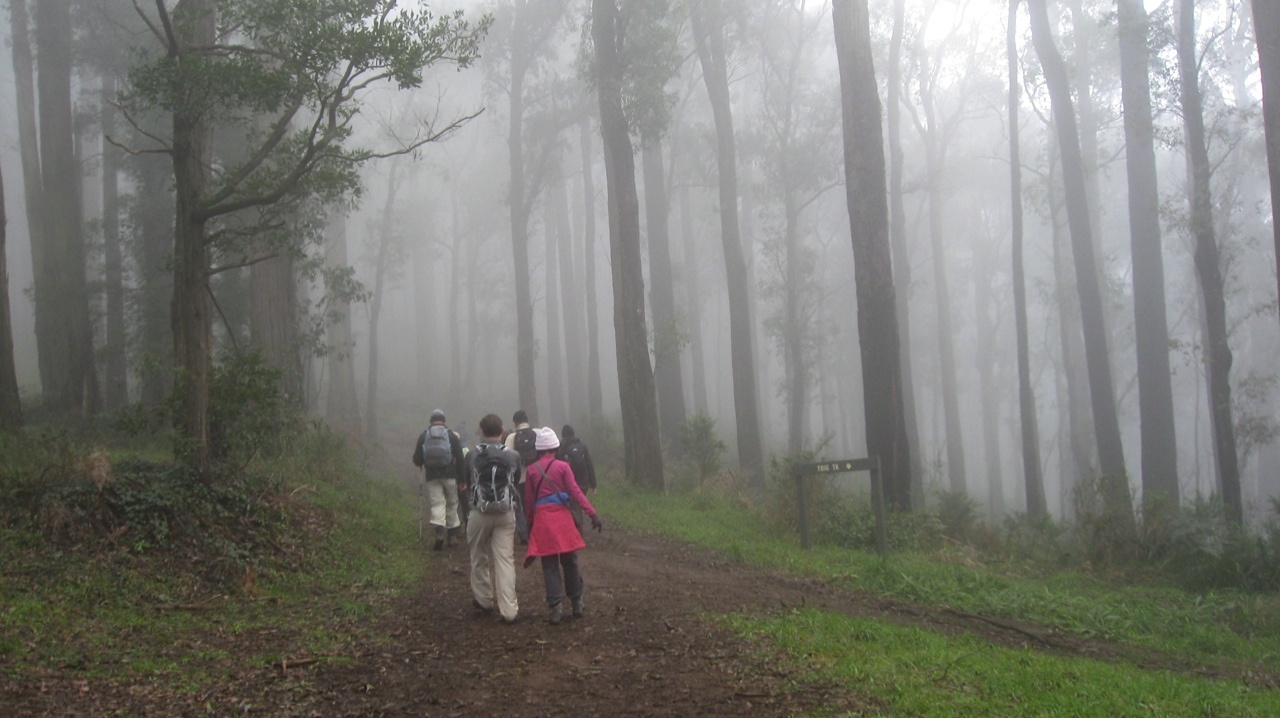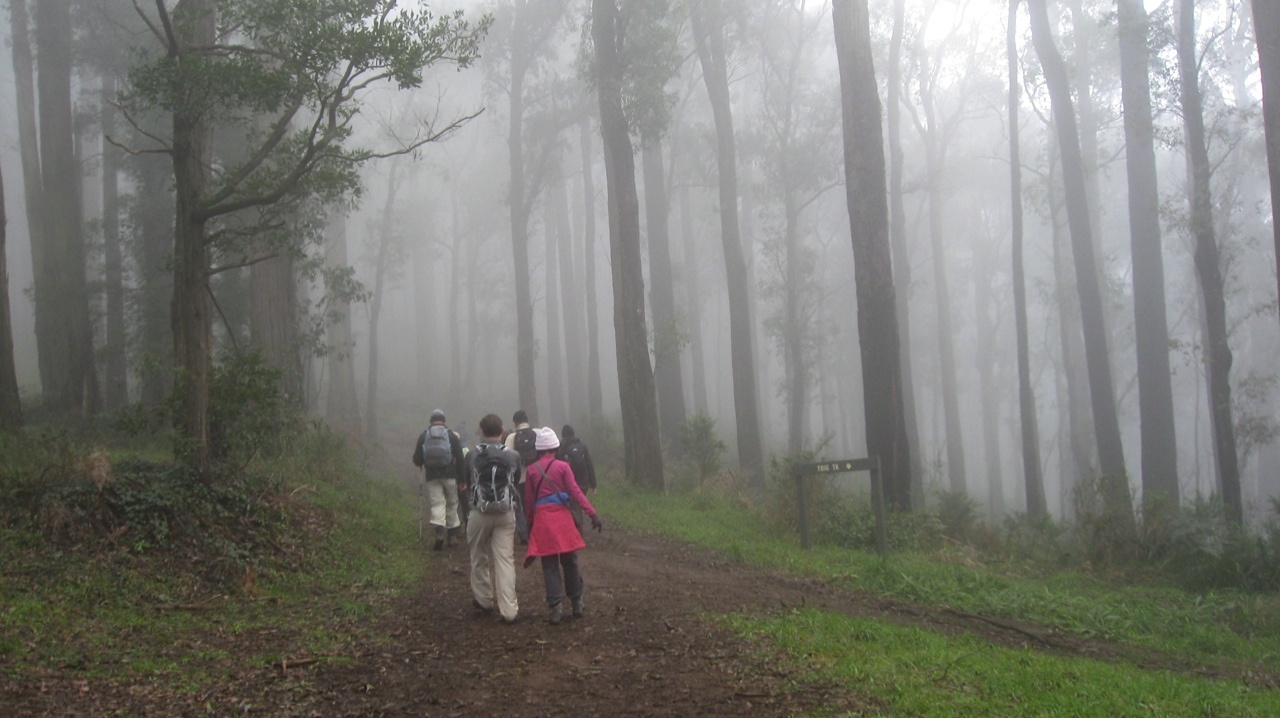 Olinda walking in mist BP
* BASECAMPS, overnight trips where day walks are done from the base campsite. A good introduction to overnight walking. Trips are generally a medium level of difficulty.
* PACKCARRIES, overnight trips where everything needed for the duration of the trip (e.g. tent, sleeping bag, mat, food and clothing etc.) is carried in a rucksack on your back from one campsite to the next. These trips are generally medium to hard, because of the greater weight carried and are in a more remote area. Packcarries and basecamps generally leave Melbourne on a Friday night.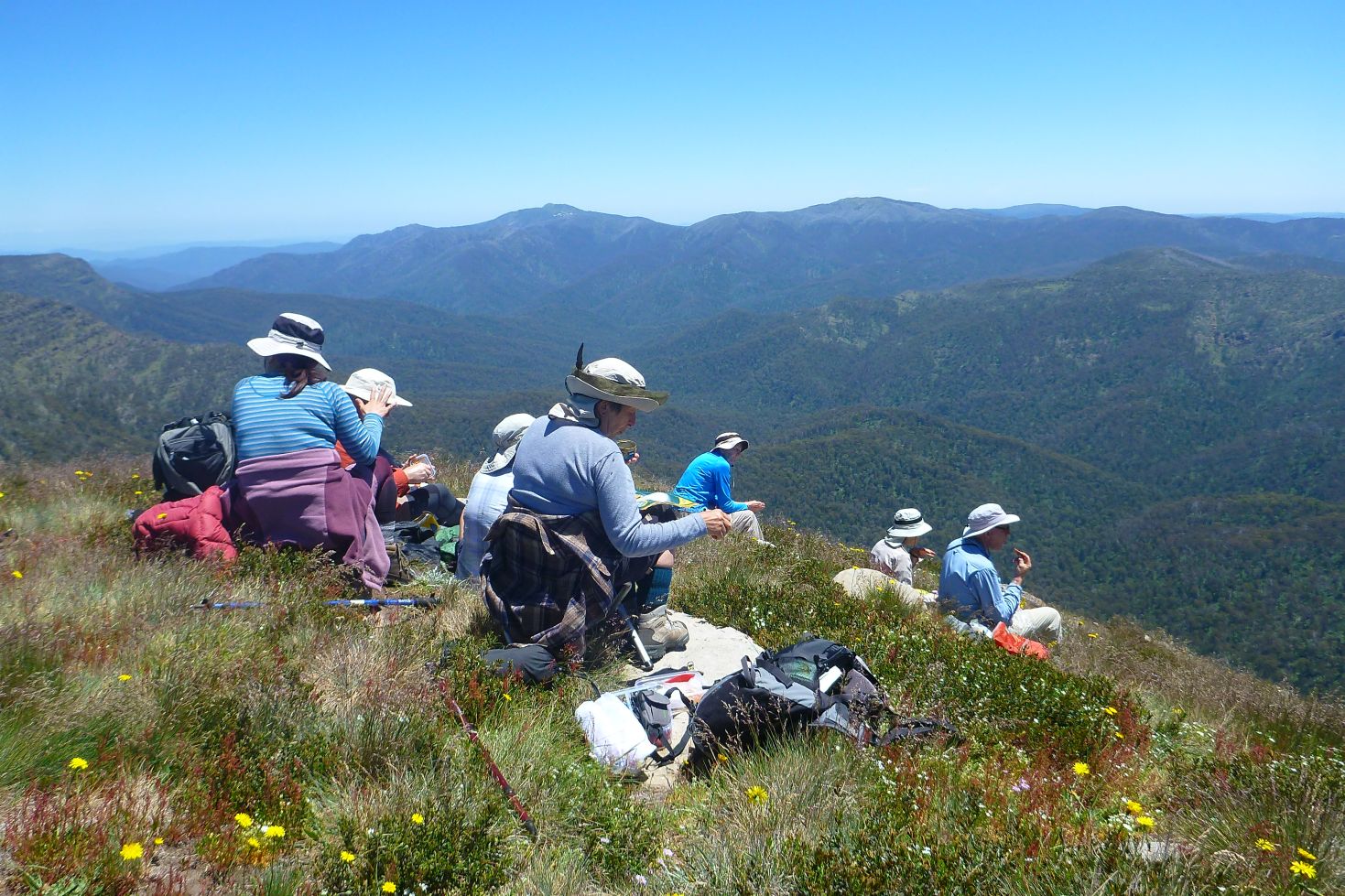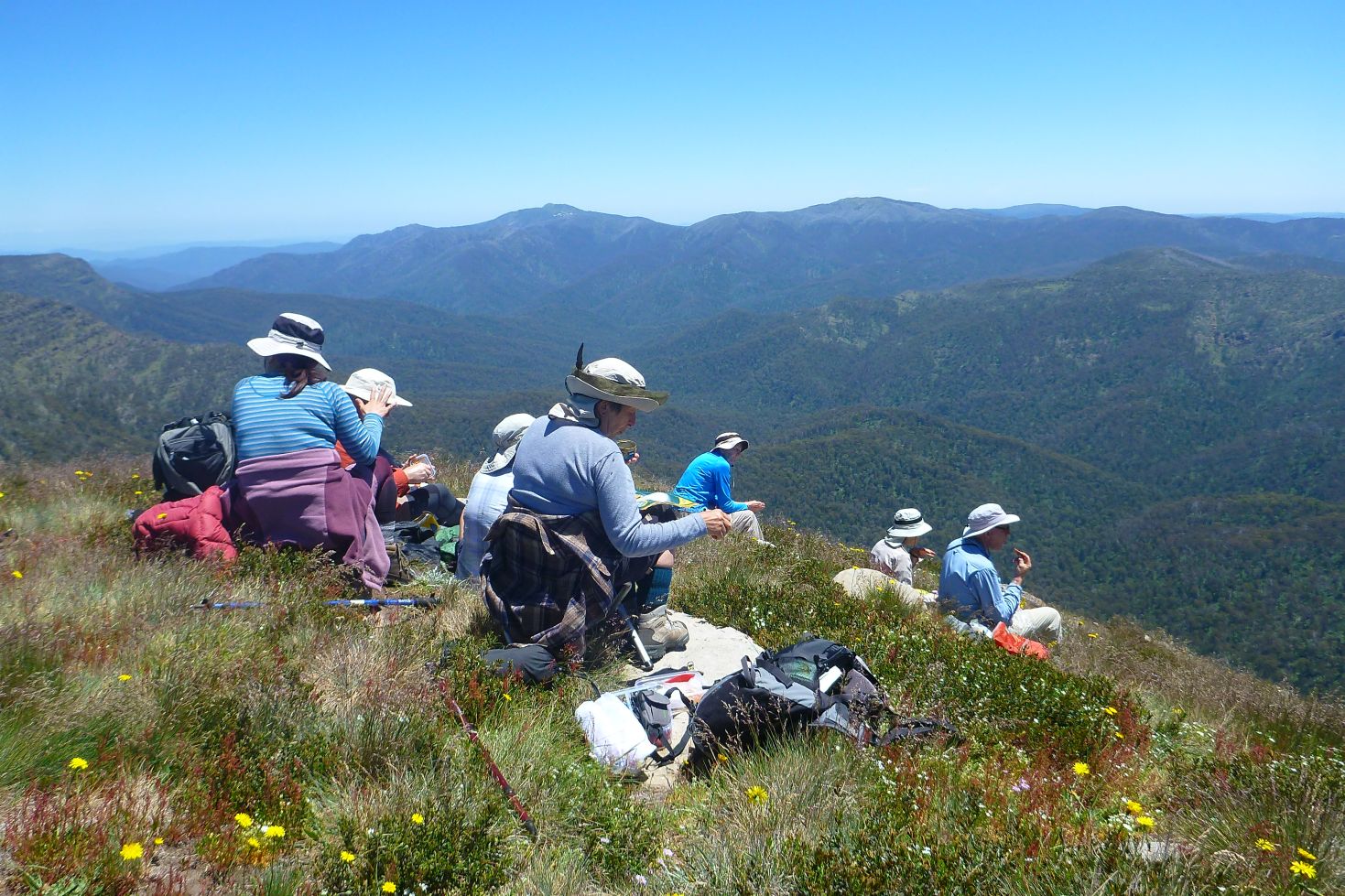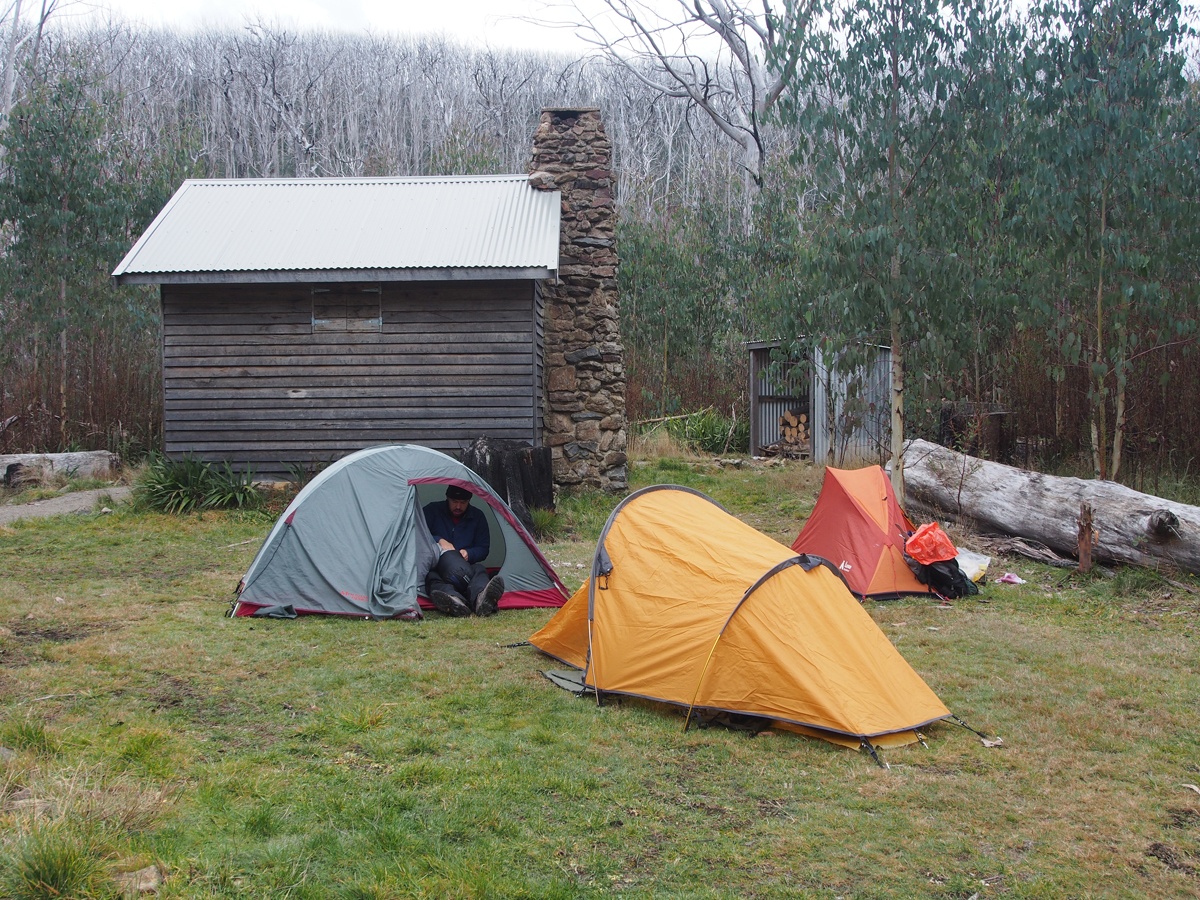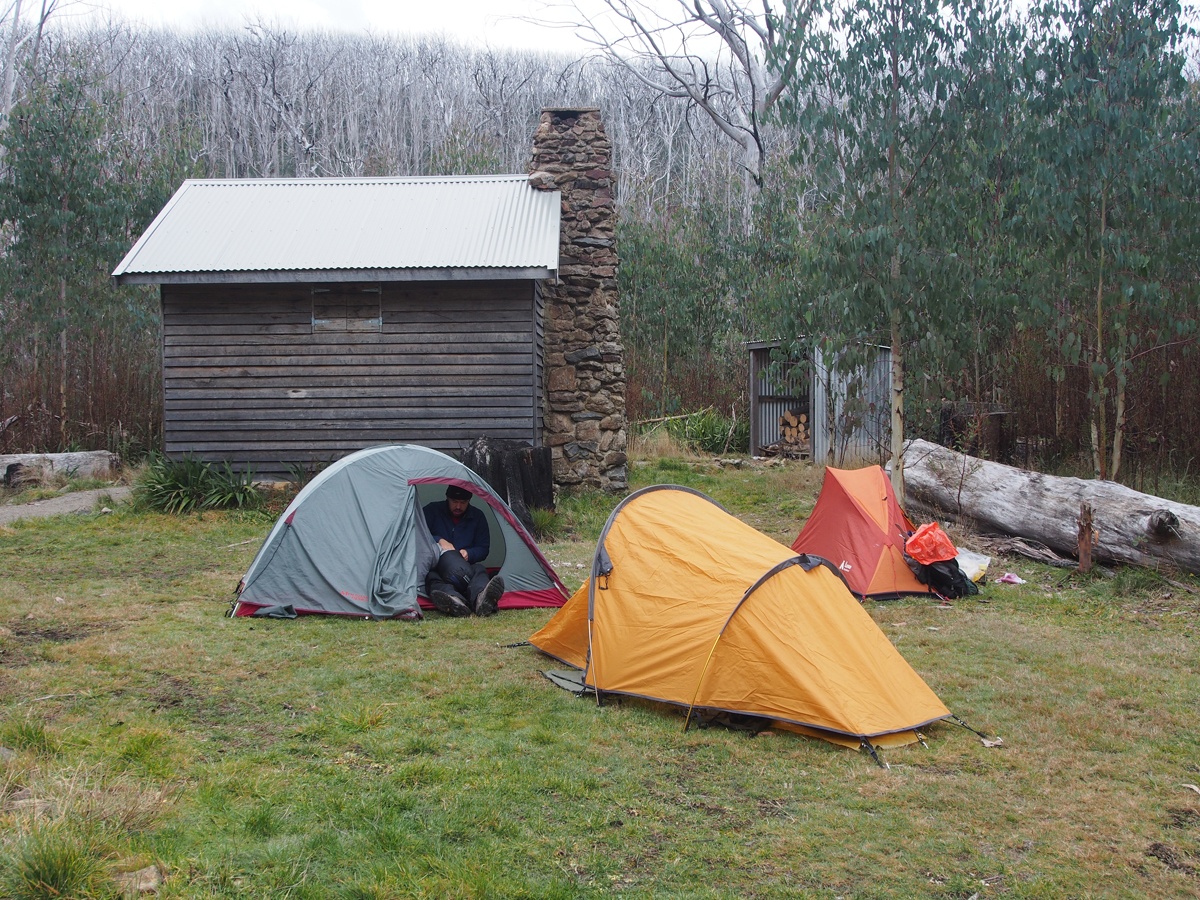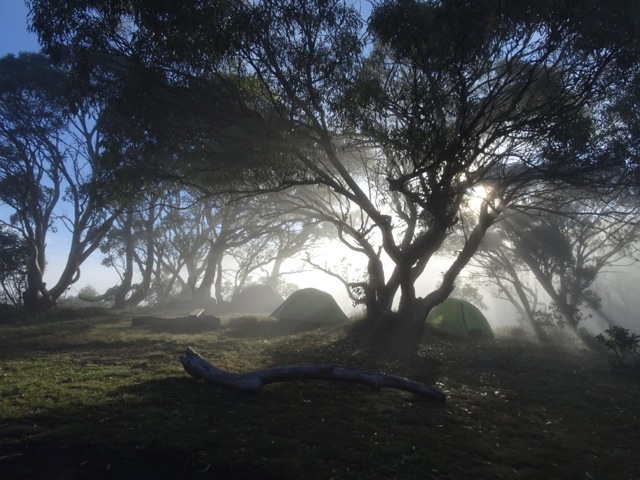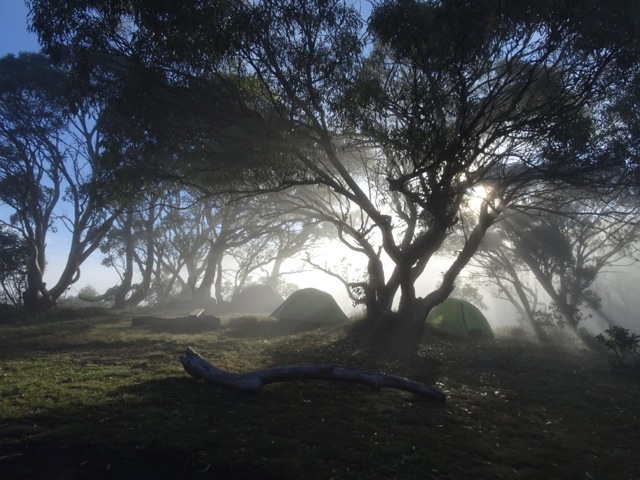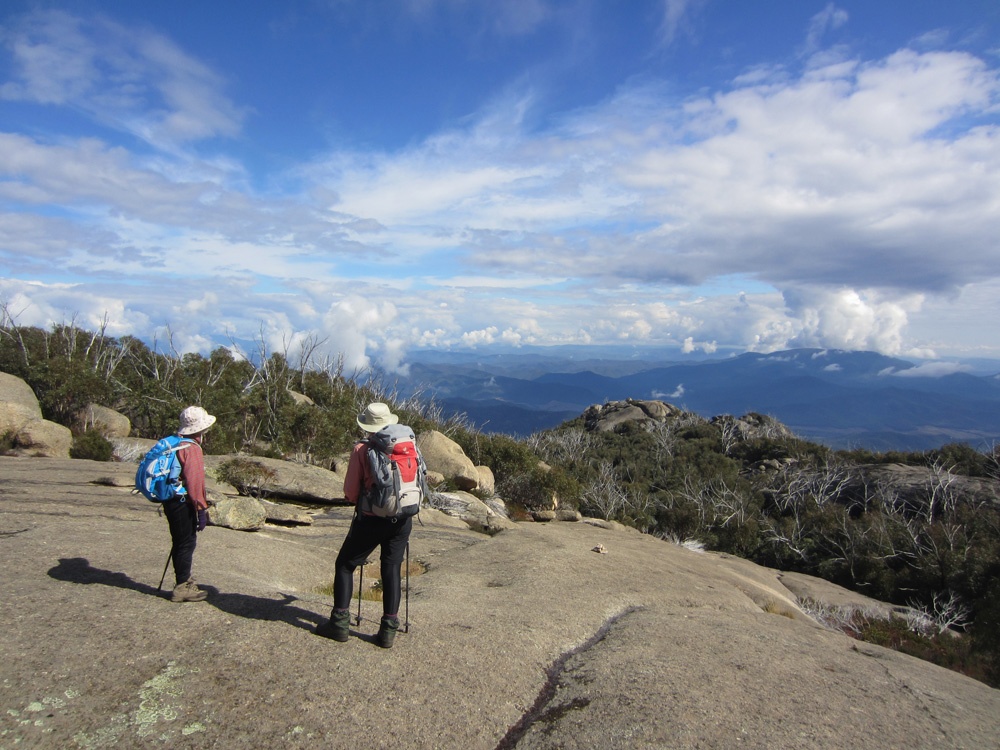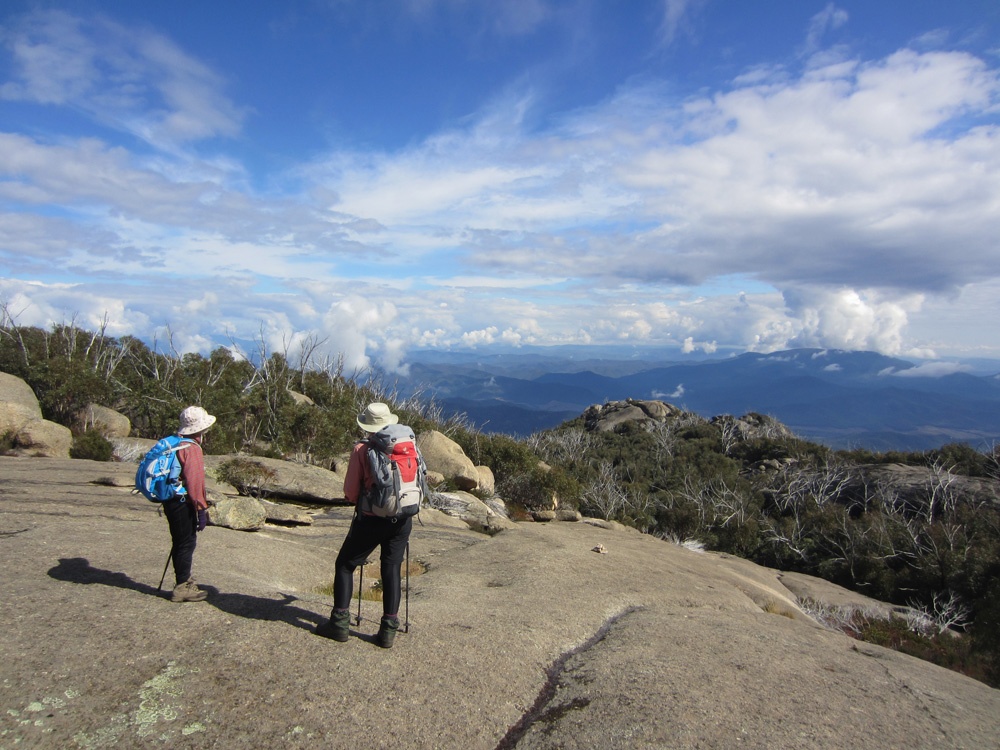 Macalister Springs camp mist BM
Mt Buffalo looking towards the Back Wall - RB
* SKI TOURING trips (daytrips and overnight) are organised over the winter season.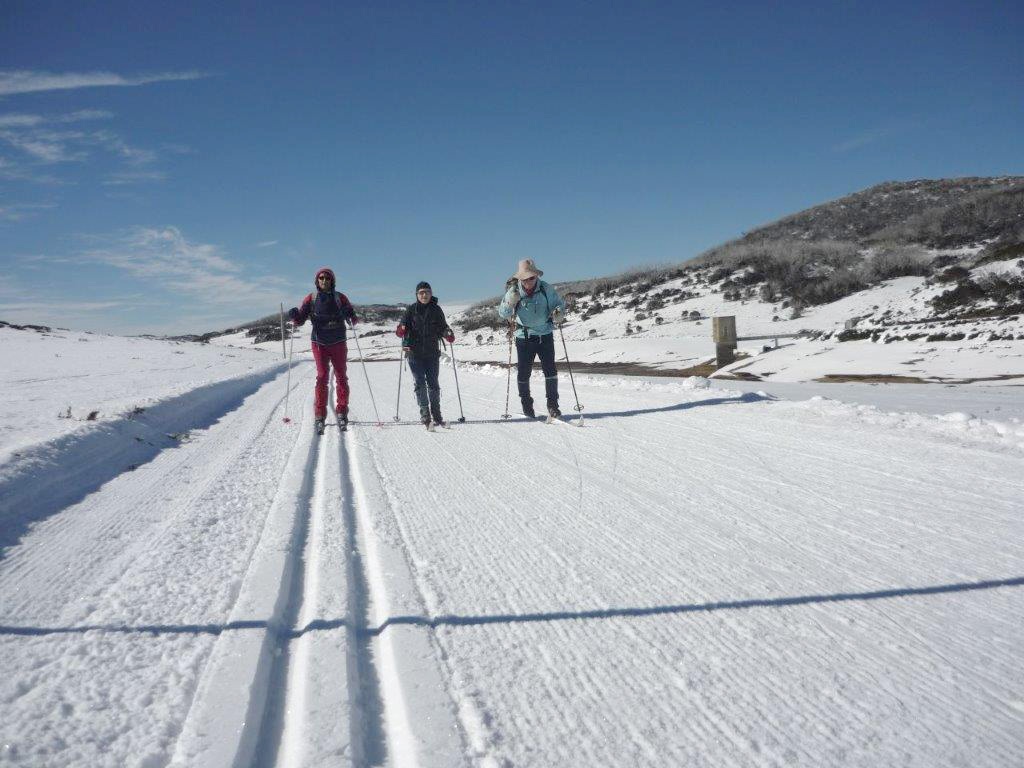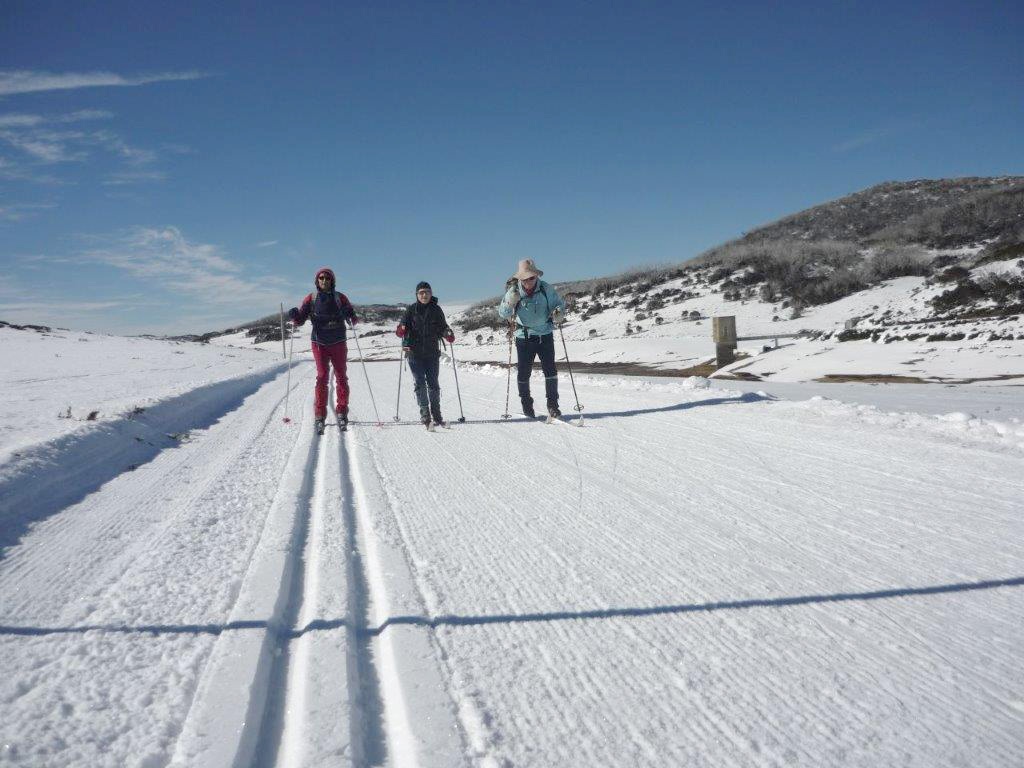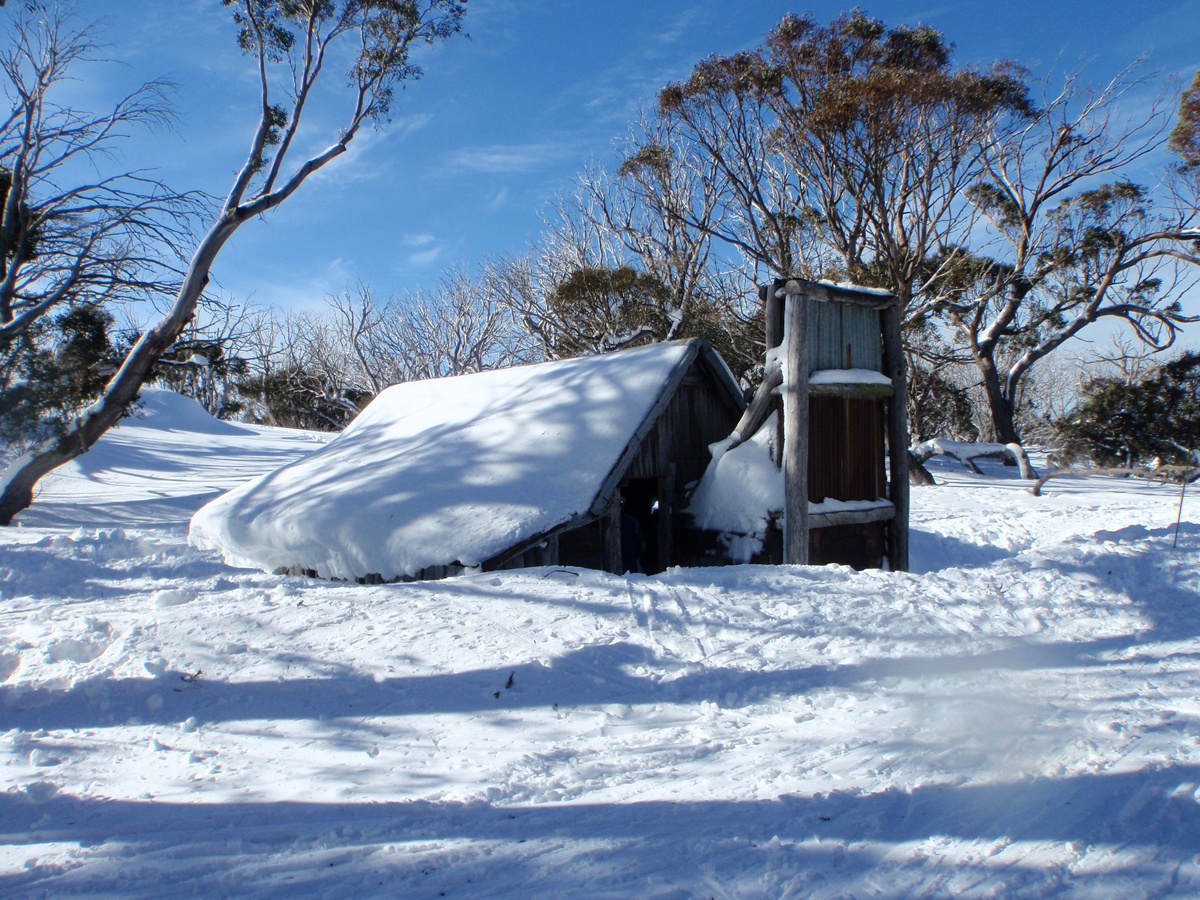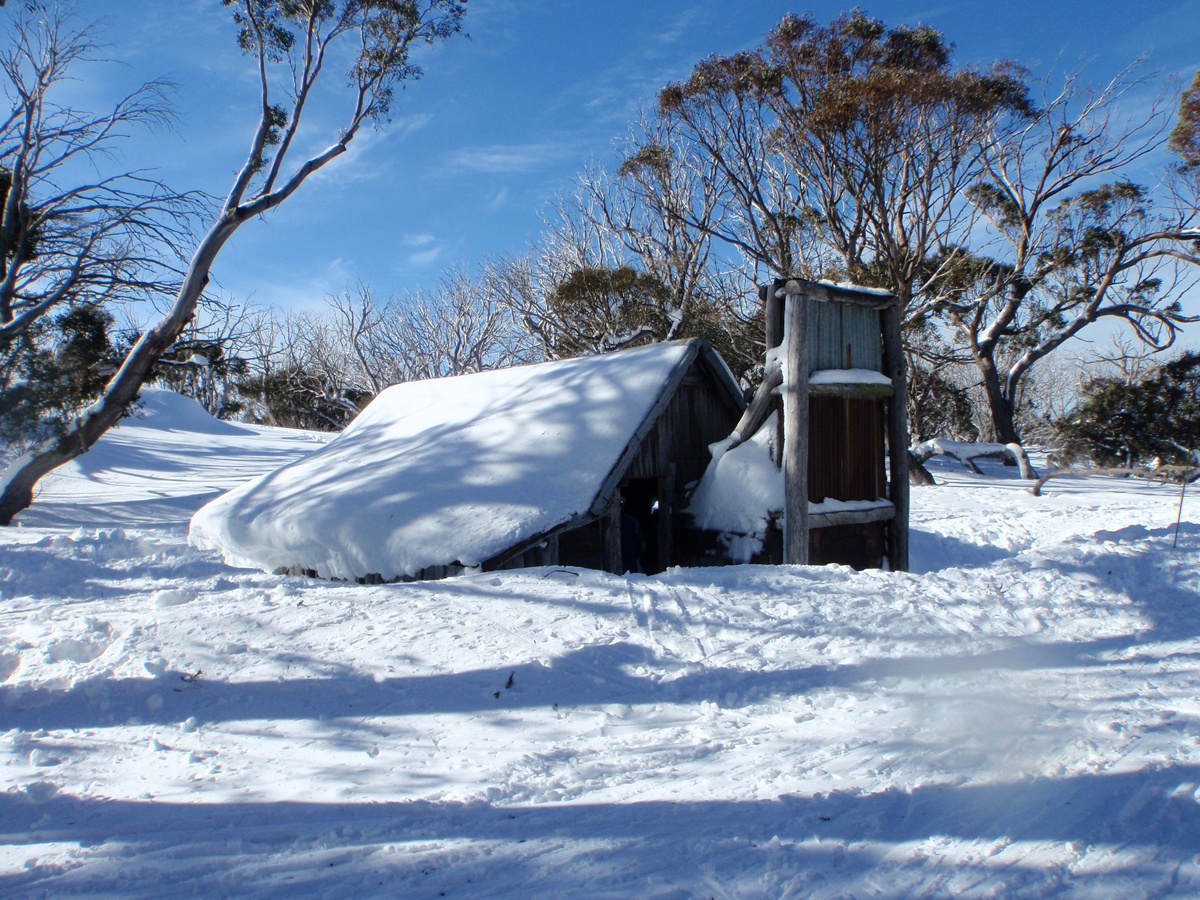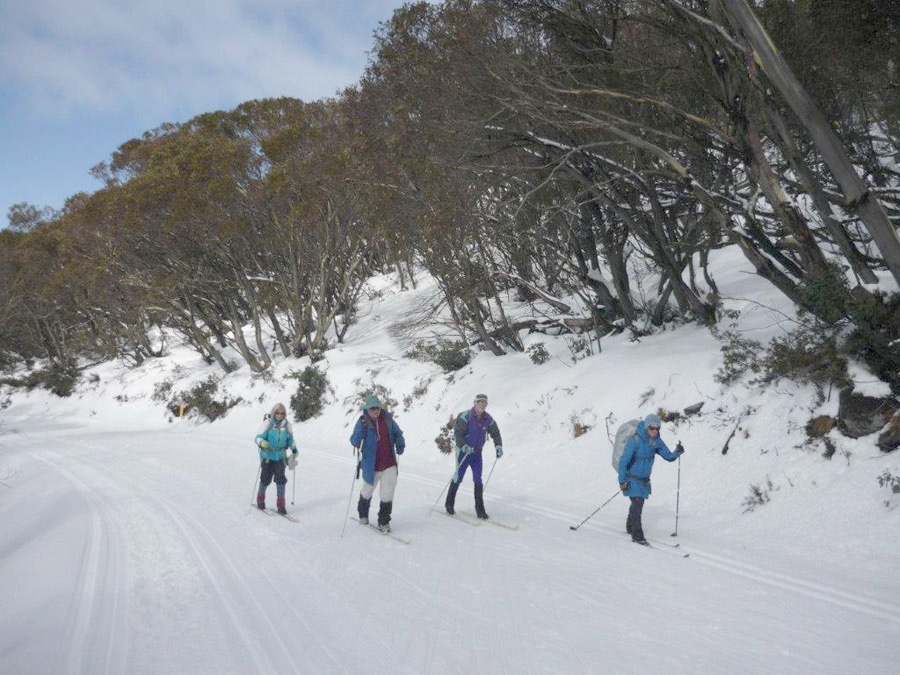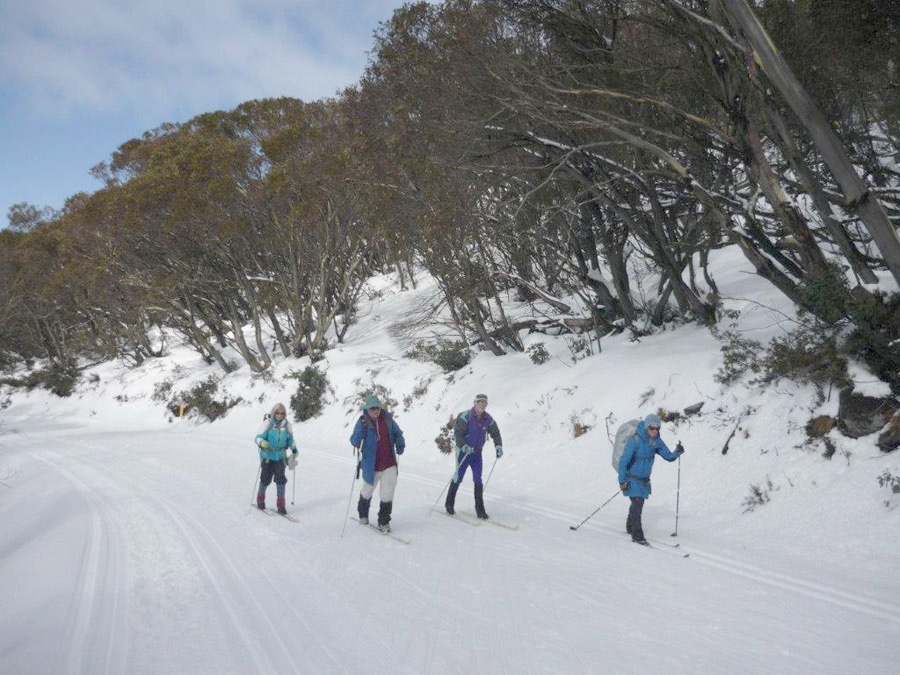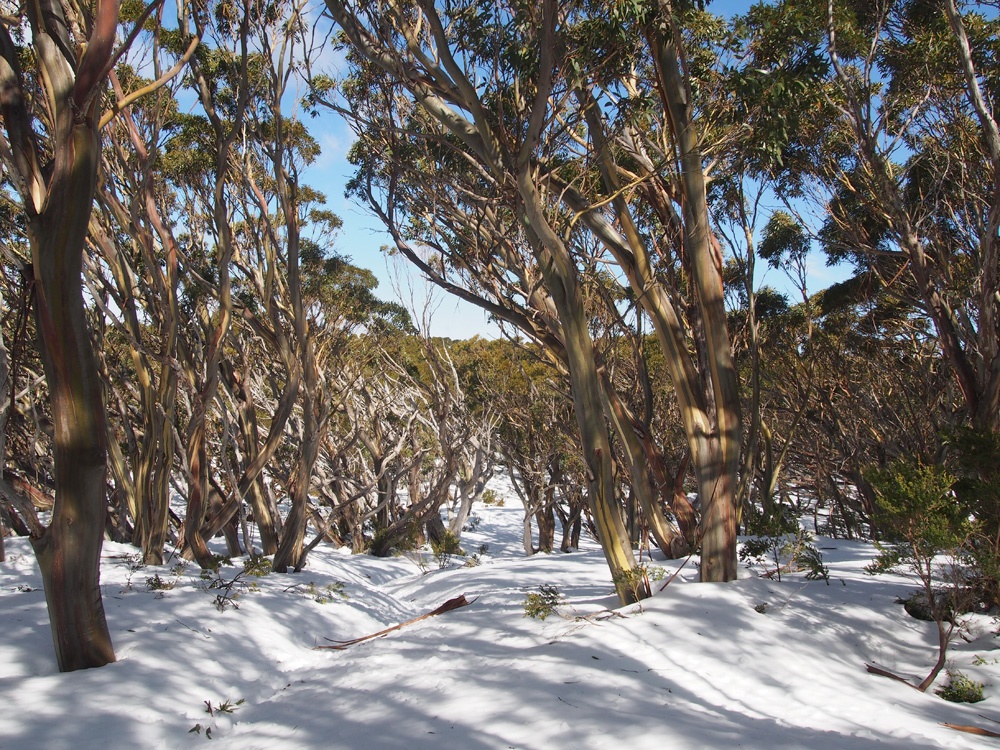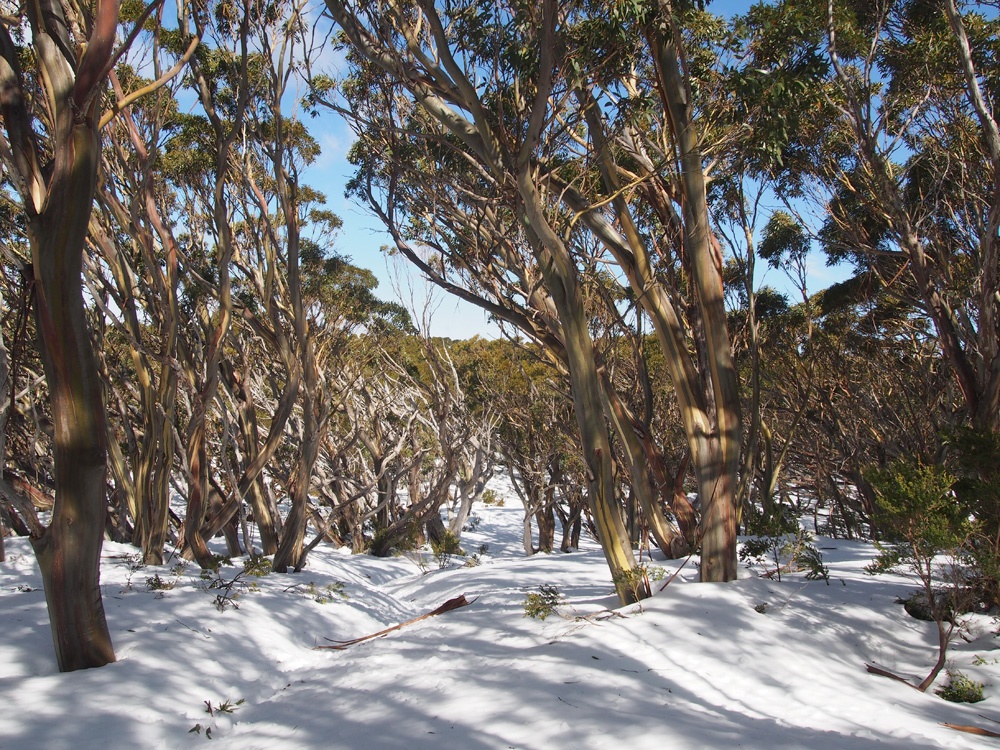 Falls Creek ski tracks - TB
Wallace's hut, Falls Creek
Falls Creek backcountry - TB
* BIKERIDES ranging from easy suburban to longer country rides.
* SOCIAL OCCASIONS: restaurant nights, games nights, cinema nights etc.
OCCASIONALLY WE ALSO HAVE: INTERSTATE TRIPS, OVERSEAS TRIPS
WHAT THE WALKS GRADINGS MEAN:
* A BEGINNERS walk is a short one of 6 or 7 km. along tracks with no more than moderate hills.
* An EASY walk is one that would be up to 12 km. in length, with not too many hills, and on well graded tracks. There are adequate rest stops along the way. A good introductory level for new bushwalkers.
A MEDIUM walk is a more consistent walk between 12 and 20 km. long with more hills and mainly walking on tracks. It helps to be reasonably fit.
* A HARD walk is either longer again and/or involves steeper climbs, often through fairly difficult terrain. You need to be fit for a hard walk, particularly if you are on a packcarry trip. Not really suitable for beginners as it helps to have had some experience.
These are general indications only. Unforeseen circumstances may affect the outcome of the walk.
FIRST STEPS:
* MAKE A BOOKING. From the CLUB PROGRAM, find a walk that interests you, ring the leader of the walk, tell him/her that you are new to the Club and would like to come along. The leader, whose name and phone number appear on the program, will be able to tell you what the walk entails. The leader is an experienced bushwalker who has made the necessary preparations for the walk. The leader knows the area, and frequently there are a number of others on the walk who do as well.
* TRANSPORT which is arranged by the leader, is more often than not by private car. Every effort is made to pool car transport and running costs (fuel & wear and tear) are then shared.
CLUB SEARCH & RESCUE CONTACTS:
The Club has a number of people who act as contacts should a party be delayed in returning. Any person who is anxious about a party member's late return may contact these members whose names and phone numbers appear on the program.
COSTS INVOLVED:
* MEMBERSHIP SUBSCRIPTIONS:
Membership entitles a person to be fully involved with the club. The annual subscription is Single Members $55; Couples $85; Members of Religious Orders $45. The subs are due on the 1st of June and are pro-rata for any part of the Club year.
The due date for the payment of annual subscriptions is the 30 September each year.
* VISITORS FEES:
Non members who participate in our activities are asked to pay a visitor's fee of $5 per walk and sign an Acknowledgement of Risks and Obligations form provided by the walks leader.
* OTHER COSTS:
1). When car travel is shared the petrol costs and wear and tear are shared with the driver.
The Club has adopted the following formula: "Multiply the cost of petrol used by two and divide by the number of people using the car". The extra allows for maintenance costs and wear and tear. E.g. Petrol used 30 litres at $1:30 = $39 x 2 = $78. With 3 people in the car each passenger contributes 1/3 x $78 i.e. $26 to the owner; with 4 people the contribution is 1/4 x $78 = $19.50 each.
2). Sometimes we go to National parks which have a small entry fee e.g. Wilson's Promontory N.P.
3). Occasionally camping fees in caravan parks, state forests, national parks etc.
RISKS AND RESPONSIBILITIES:
The Club has a set of Risk Management Guidelines which recognises and are intended to manage the risks and dangers in bushwalking and other Club activities.
Participation in a Club activity is entirely voluntary. Therefore all participants are responsible for their own safety, and must personally accept the risks of injury, illness or death and of damage to any property, which may result from their participation. It is strongly recommended that participants have Personal Accident Insurance cover and Ambulance Service membership. A personal first aid kit and protective clothing (according to the season) are essential for every Club activity.
Leaders have the authority to take all necessary steps to ensure the safety of their party. All members of a party must respect that authority. You must not separate yourself from a party without first getting the consent of the leader.
Through Bushwalking Victoria, the Club has Public Liability and Personal Accident Insurance for its Members and temporary members (visitors). Visitors are required to complete, sign and give to the leader an Acknowledgement of Risks and Obligations by Non-Members form before participating in any Club activity: No Form – No Start!
CLUB PROGRAM:
The Club program is issued every two months and can be viewed on the Web by going to CLUB PROGRAM page. The program can be downloaded as a PDF file. You can also contact Bernie O'Shea on 0417-358-569 to obtain a copy. The Club can also be contacted using the Contacts Form at the bottom of the page.
THE CATHOLIC WALKER (club magazine):
The Club publishes a bi-monthly magazine, The Catholic Walker. Non-members may subscribe to the magazine at a cost of $20 per annum for six issues.
---
SEND AN EMAIL ENQUIRY
Secured with Google reCAPTCHA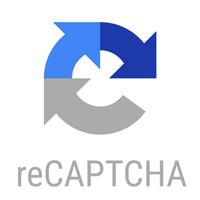 © Copyright